Worried Muslim friends
News In English
Worried Muslim friends.
By ASN-News Staff, 17:45, 24 August 2003.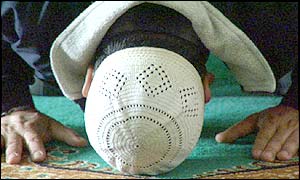 A disquieting new tone has sneaked into my routine telephone conversations with moderate Muslim leaders on both sides of the Atlantic. "Washington's bungling in Iraq worries me so much that I can't sleep anymore; it's damaging my health; it's a scary time," an internationally well-connected Arab-American Bush supporter told me Friday morning.
He begged me not to use his name because, he said, "expressing pro-administration sentiments has become dangerous. Even Arab-American Republicans will call you a traitor if you back Bush." So I'll call this contact Mahmoud. Like Bassam Tibi, a reform-minded Muslim scholar teaching at Goettingen University in Germany, Mahmoud stated, "Iraq is on its way to become another (Taliban-run) Afghanistan, only with lower mountains."
Syrian-born Tibi, a social scientist and ardent proponent of a modernized Islam compatible with Western values, said, his voice shaking with worry, "America's sworn enemies are pouring into Iraq from all sides because the borders are not properly controlled. Iraq has become the new domain for Muslim fanatics."
Added Mahmoud, "When I telephone contacts in Saudi Arabia, Turkey, Syria, Yemen and Jordan, I keep hearing the same story over and over again: the story of hundreds and hundreds of men seemingly disappearing without a trace. You don't have to be a genius to figure our where they have gone - to Iraq."
Like Tibi, Mahmoud and other pro-Western Muslims questioned for this column stressed that the desire to hurt America unites people who used to be sworn enemies and will be sworn enemies again once this is over. "Take the attack on the United Nations in Baghdad. Here was an Islamist suicide bomber blowing himself up with a device given to him by the Baathists." Normally, no other group is as opposed to Muslim fundamentalism than the socialist and essentially godless Baath party of Saddam Hussein.
Again, like Tibi, Mahmoud listed the lethal ingredients in the current Iraqi stew:
- The "road map" for Palestine and the Middle East peace process is crumbling, thus united most Arabs against the United States.
- With its inability to get Iraq and Afghanistan under control, the United States has lost the fearful respect of basically hostile powers in the Arab World while pro-Western regimes, afraid of their streets mobs, are now keeping ominously quiet.
- The failure of the Arab League to admit Iraq under the new pro-American administration is an alarming sign, according to Mahmoud.
-- "Next watch for an uprising in Iraq's Shiite South, stirred up by Iranian intelligence services, which are much more competent than our own," Mahmoud warned. "Iran (a predominantly Shiite country) might do that to extract concessions from the United States."
"The Americans must win over the Shiite clergy, but there is no sign that the administration is even aware of this need," complained Bassam Tibi. Indeed, before war broke out Washington officials inexplicably sidelined moderate Shiite clerics, such as Sheikh Mohammed Mohammed Ali, a top theologian and member of the (exiled) Iraqi National Congress' Leadership Council.
Ali, who lived in London and frequently visited Washington, was one of the staunchest supporters of a secular democracy guaranteeing total religious freedom for all Iraqis. When last heard of, he tried to raise funds privately to finance his program. Evidently, he is currently in Iraq.
"We need such men," said Tibi. "We need joint efforts of all those who worship God. We need a new security system that includes America's Muslim friends." Instead, added Mahmoud, "Iraq has become the focal point of everybody who hates America."
In my telephone calls with prominent Muslims, all Bush supporters, they unanimously told me this: America has landed itself needlessly in a quicksand without being aware of it. As Mahmoud phrased it most clearly, "If the administration is not scared about all this, I don't know what will scare them."
NOTICE! The Images on top of page, has been on ASN-News Archive.
BACK TO MAIN PAGE - BACK TO RUSSIAN VERSION OF ASN-NEWS.
_____________________________________________________________
ASN-News. The liberty Islamic Mass-Media Portal. Project Mr.Damir Ahmed. The all materials has published in this portal, right reserved to all muslims in world, only the hyberlink on the Index Page. The site bulding in 21 August 2002, english version opened in 06 december 2002. ASN 2002-2003.
Electronic Redaction: english@asn.mailgate.ru
Webmaster : webmaster@islamicmail.net