Communication Not a Problem for Taiwanese Pilgrims
News
Communication Not a Problem for Taiwanese Pilgrims.
JEDDAH,KSA(by ARABNEWS.com), |17:55, 26 January 2004|.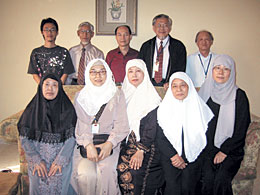 A total of 25 Taiwanese, 11 men and 14 women, are performing Haj this year. The oldest among them is a healthy 74-year-old retired sailor. It took him a long time to prepare for the trip and make the decision since Haj is such a serious undertaking.
'Once he performs it, he is not supposed to do anything wrong,' explained Salahuding Ma, the head of the Taiwanese Haj mission.
The youngest in the group are two 20-year-old university students, a man and a woman. The boy is studying medicine and the girl is studying Arabic, providing some needed translation for the group along with the little English they speak.
The group also includes a doctor and his wife who is a nurse. He converted to Islam 30 years ago when he married her; this is their first Haj.
A few additional Taiwanese pilgrims are expected to arrive as guests of Custodian of the Two Holy Mosques King Fahd, who invited 1,000 pilgrims from around the world - as he does every year - to perform Haj at his expense.
It is a long way for these pilgrims, but the longing for Haj is strong and these days it is much easier and less expensive.
'Travel tickets cost $700-800 and living expenses here are affordable. We also receive support from the foreign affairs department at the consulate,' said Ma. This is his second Haj trip; the first was 11 years ago. 'There have been big changes and the Saudi government has made it easier to come to Haj.'
On the other hand, Ma also told Arab News that there used to be more job opportunities for Taiwanese here and that those who worked here provided support to the Taiwanese pilgrims.
The Taiwanese will return home on Feb. 11, making the most of this opportunity to be in both Makkah and Madinah. They come from different regions of Taiwan, large cities and small villages, although the majority of Taiwanese Muslims live in the capital, Taipei, according to Ma. 'We are a minority in Taiwan; that is why we need to do more as Muslims,' he said.
They have mosques where they can practice their religion freely and they have classes for their children to teach them the basic tenets of Islam. 'The biggest problem is finding 'halal' food. We either slaughter the animals ourselves or import halal meat.'
There are between 50,000-60,000 Muslim Taiwanese, many of them immigrants from countries such as Malaysia, Burma and Pakistan, according to Ma. They are meeting pilgrims from different countries and making friends; communication is not a problem.
Author: Maha Aqeel, ARABNEWS.com Staff.
BACK TO MAIN PAGE - BACK TO RUSSIAN VERSION OF ASN-NEWS.
Abouts Us & Feed Back
Assalamu Aleikum! The ASN-news, News Islamic Service has published the about Us
HERE
, Is feedback please send
HERE
. For more population , has been detected SEARCH ARTICLES SERVICES, Is
HERE
. The more adres: 1193 Kurniche Al Nil street, Town Cairo. Mobil number: 0127940154(Igor Segodniy).
____________________________________________________________
ASN-News. The liberty Islamic Mass-Media Portal. Project Mr.Damir Ahmed. The all materials has published in this portal, right reserved to all muslims in world, only the hyberlink on the Index Page. The site bulding in 21 August 2002, english version opened in 06 december 2002. ASN 2002-2004. The chief of this version: Umar.
Electronic Redaction: english@asn.mailgate.ru
Russian Redaction: asn@asn.mailgate.ru
ADV services: advertisement@asn.mailgate.ru